Recent Scores
Groovestats News
03/18/2023:
ITL 2023

"The International Timing League Online 2023 (ITL Online 2023) is an online event for StepMania that is focused on technique and timing. The event is organized by the International Timing Collective (ITC) and features charts from members in the community.
Chart difficulties start as low as ITG 7s, so whether you're an expert or just starting out there should be something here for everybody!
Join our Discord or follow us on Twitter @IntlTiming to connect with other entrants or for help with getting started! For more information check out our official website at itc.dance."
03/01/2023:
East Coast Stamina 11.5 Begins!
Our annual team stamina tournament, East Coast Stamina 11.5, has begun! The event will run from March 1st, 2023, until the final day of submissions on May 14th, 2023.

Even if you're not interested in competing, the ECS .5 events also act as a showcase of new stamina content, so be sure to check it out!

Format information, downloads, acknowledgments, and other info can be found on the website for the event.

--Ian
02/26/2023:
I Can't Believe It's Another Pack Update
New tech packs:
Bangers Only 3
dimocracy 2021 - second term
Kingly's Excellent Mix 4
skittles prime
Tak's Meta Steps (ITG)
Valex Sims 2022
And also, some new stamina packs as well:
Arc Stream Works
Sefirot'S SimfileS 5
Squirrel Metal II
tyler.exe
weeb.exe
Xynn's Inferno
A new compilation called 'dimocracy Series' was also created, and both dimocracy packs were added to that.

Thanks Tommy for doing some pre-checking on the packs selected by the tech community to rank.

Reminder that February 28th, 2023 is the final day to submit scores for SRPG6. East Coast Stamina 11.5 begins the following day on March 1st!

--Ian
10/28/2022:
New Pack Update
Some new tech packs:
Highflyer's Tech Trails 2
Koreyja 3
sorae's stax
Summer Vibes Vol. 1
...and some new stamina packs:
Feelin' Rusty 4
Unbuild of Sharpnel
Xynn's Mix Tapes
Also, SRPG6 has reopened for scoore submissions now that ECS11 over, and it'll remain open until 11.5 begins.

--Ian
09/21/2022:
East Coast Stamina 11 Site and Merch!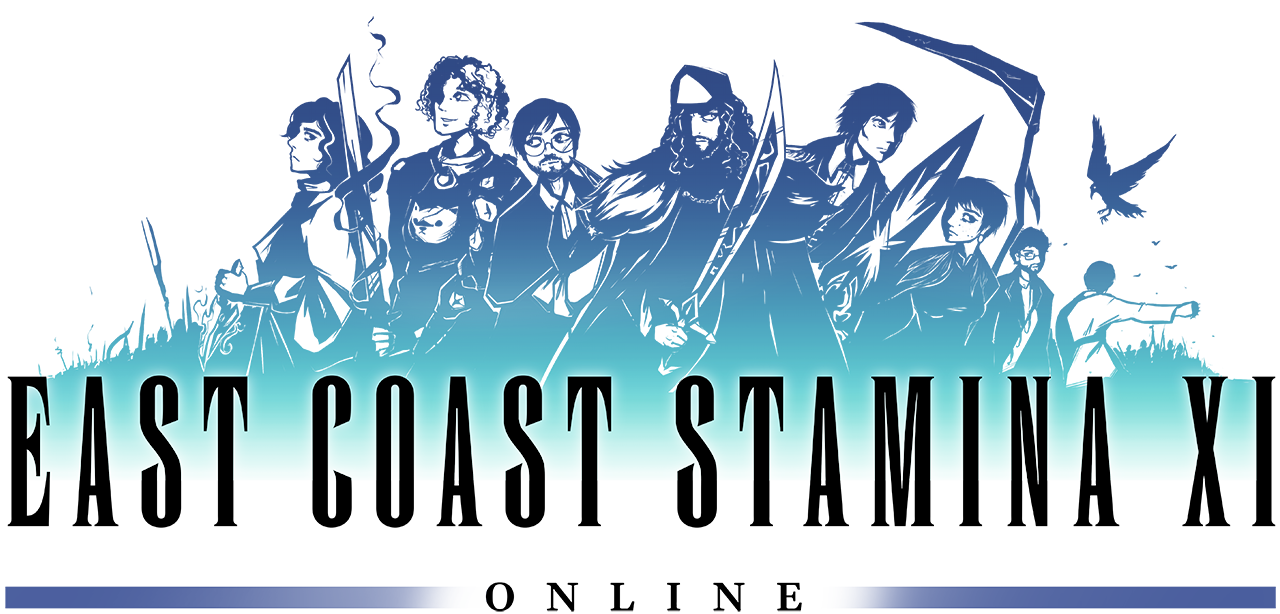 East Coast Stamina 11 begins on October 7th, and the website/merchandise are now up for it! Anyone who has competed in SRPG6 is qualified to enter, with further division qualification outlined on the SRPG6 website.

Acknowledgments and more information can be found on the website itself!

--Ian
06/24/2022:
Stamina RPG 6 + Merchandise!
Merch is now available for SRPG6-- thanks to Pluto for all her work on this (and on most of the art in general!):

After months of work by almost 60 people, Stamina RPG 6 is here! This is a yearly event that acts as not only a qualifier for ECS, but also as its own tournament, and pretty much a game in of itself. Automated score entry/song unlock downloads are once again facilitated through the use of GrooveStats Launcher, but additionally through the brand new ITGmania, which is a replacement for SM5+GSL with lots of bug fixes and cool new features (and it's definitely the way I recommend participating in the event)!

You can download the latest versions here:

ITGmania (comes with the latest Simply Love)

SRPG6 encourages personal progression and competition focusing in three different areas represented by different factions:

Stamina Nation (Marathon charts)

Footspeed Empire (Speed charts)

Democratic People's Republic of Timing (Tech/Stami-tech charts)

Many different rankings exist for metrics ranging from marathon passes, timing, footspeed, skill in particular bpms, ECS11 qualifying, total passes, and lots of others.

If you're stuck on making progress, rate mods are still a great way to improve and still get credit! Experience points are based entirely on BPM/chart structure, so even the easiest content in the event will continue to be helpful as tools to advance your skills.

There are more quests (many of which unlock new songs) than any previous year, totaling to almost 450!

There's lots of other stuff to discover too!

And of course, there's the lore-- watch the video Dom made if you're interested in that:

Please check out the acknowledgments on the SRPG6 site to see who else helped make all of this happen!

--Ian
03/26/2022:
International Timing League Online 2022
GrooveStats is hosting the ITL 2022 event:
"ITL ONLINE 2022 IS NOW LIVE! https://itl2022.groovestats.com/
#ITLOnline2022 is an online event for StepMania 5 ("ITG") that is focused on technique and timing. If you have a home setup, check out the event website to learn how to get started!
GrooveStats integration for automated score submissions!
Live global and song leaderboards!
Featuring 300 charts from 64 commmunity stepartists!
Difficulties range from ITG 7s to 16s
Event runs from March 25 thru June 26. Event format and rules can be found on the event homepage. See everybody there!" --Ian
03/07/2022:
Hash Updates for ITG 1/2 Officials
The hashes that are used with GrooveStats Launcher and QR scanning for the charts from ITG 1/2 have been updated to use the files included in r23. They were previously hashed on our end using... some other version of the files? Still not totally clear what happened there, but it's finally corrected.

--Ian
03/06/2022:
Pack Update
Big update with some stamina content...
bigger waves
Hardbass Madness 2
Kyypakkaus 2
Saitama's Starter Weapon
Saitama's Ultimate Weapon
Sefirot'S SimfileS 3
Sefirot'S SimfileS 4
Short Snack Simfiles
Sick Music
The Joy Of Streaming 2
Tuuc's Stam Snack Pack
...as well as some content requested by the tech community...
Highflyer's Tech-nically Romantic
Highflyer's Tech Trails
Mojo Brojo's Nefarious Streams
...and finally, three new compilation rankings:
Highflyer's Tech Series
Sefirot'S SimfileS Series
The Joy Of Streaming Series
Planning on doing another update to correct the hashing on ITG 1/2 officials to match r23 in the next day or two; was going to have that for this release, but there were a lot of issues with the files I had to manually correct in order to rank them, so it took far longer than anticipated.

--Ian
03/03/2022:
East Coast Stamina 10.5 begins!
Our annual stamina-oriented team tournament has launched! Anyone interested in participating should check out the site:

Through that page, you can read about the format, grab the songpacks, and sign up to compete!

--Ian
12/31/2021:
FA/Tech Pack Update
Large update for FA/tech packs:
7guys1pack
Animal Crossover
DaSquid's Easy Quads
dimo's -V- selifmis
dimo's -VI- selifmis
Feraligatr Scales 3
global namespace
global namespace 2
Kerpa's Simfiles Collab Pack
Kerpa's Simfiles Playlist 2
Loak's Inferno
Lumi's Lighthouse
Mojo's Bizarre Tablature
Shpadoinkle #7
Shpadoinkle #8
Shpadoinkle #9
Shpadoinkle #10
Super Skittles Selection Turbo
TakTek
Valex Sims 2021
I've also added four new compilation packs:
dimo selifmis Series
global namespace Series
Shpadoinkle Series
Valex Sims 20xx Series
...and 7guys1pack was added to the 'Guys Series' compilation pack.

--Ian
10/08/2021:
Another Pack Update
The previously mentioned FA/tech pack update is here, along with a few more stamina packs that were released in the interim while I was waiting on the tech list:
Bangers Only
Bangers Only 2
Club Fantastic Season 2
dimocracy
Loodee Simfiles 2
Postmodern Technology
Prickly Pear's Poppin Pack
$$ MONEY MiNiPACK $$
selected yutsi works vol. 2
Zaniel's Junts 2
I've also added two new compilation packs:
Club Fantastic Series
Bangers Only Series
--Ian
10/01/2021:
Large Pack Update
I've requested and am waiting on a list of tech/FA content to be added, but in the meantime, the following packs have had rankings added to Groovestats:
138 Is Great
Eurobeat Is Fantastic - Second Stage
ExJam09 Jams 2
fsorae's fstamina ffuckeronis
Goreshit 2020
itg! Rhythm is just a step away
ITGAlex's Stamina Singles ep.1
Lindsey Stirling
Mango's Microrave Samplur
selected yutsi works
the
The Joy of Streaming
The Starter Pack of Stamina
yutsi-type beats
epic
yutsi b-sides
Additionally, I've created the following three compilation rankings:
Eurobeat Is Fantastic Series
ExJam09 Jams Series
yutsi Series
--Ian
05/10/2021:
East Coast Stamina 10 Site/Merch now available!
Stamina RPG 5 has ended, but with the close of the RPG comes the beginning of ECS10! The website is live now with the packs and some of the essential information, and there's more things to come (such as the theme, marathon unveiling, and actual start of the event) in the near future!
There are also new products featuring the ECS10 design in our shop, and I've added the highly requested tri-blend shirts that were missing for SRPG5 as a product option for all the different designs for that event.
Please see the page itself for detailed acknowledgments, but huge thank you to everyone who is helping me to make the event successful!
05/10/2021:
STAMINA RPG 5 IS NOW LIVE!
Featuring for the first time fully automated score submission and fully integrated leaderboards for each song in the theme, Stamina RPG 5 is the culmination of the efforts of over 30 people. Featuring content with difficulties ranging from the 11-block to 26s and beyond, no matter what your interests are, there's something for you here. While these events have their roots as a qualifier for the annual East Coast Stamina tournaments, they have grown to be an experience all of their own.

New versions of GS Launcher and Simply Love for SM5 dropped yesterday with bug fixes/improvements specific for SRPG5!

You can download the latest versions here:

SRPG5 introduces a new faction system with content specific to each nation:

Stamina Nation (Marathon charts)

Footspeed Empire (Speed charts)

Democratic People's Republic of Timing (Tech/Stami-tech charts)

Choose your faction and work together as a community to unlock raid bosses and work towards personal promotions! Try to take a bigger slice of the pie than rival factions!

As always, there's also a quest system for unlocking content. This year is the biggest implementation of that ever, featuring over 300 total-- there's more than twice as many as SRPG4!

There's lots of other stuff to discover too!

Huge shoutouts to teejusb, natano and Dom who helped tremendously with the coding involved with making all of this possible (especially with the theme integration), and to Pluto who managed to come through with her great relic and logo art despite dealing with a lot of issues outside her SRPG5 work. There's too many other people to thank here, but please make sure to check out the acknowledgments on the main site!

--Ian
05/10/2021:
GS Launcher: Simply Love SM5 Online Leaderboards and auto-submission to Groovestats!
For many years now, it's been a long term goal of mine to work to get Groovestats integrated with Stepmania. The first step towards that goal was the implementation of QR codes-- something that you only need a phone to take advantage of, with no requirements for network access or anything like that. The logical next step (which for a long time I didn't think was going to be possible on SM5, based on previous conversations) was to make automatic score submission and theme-integrated leaderboards a reality.
I'm extremely happy to announce that by using a new utility, the GS Launcher-- in conjunction with compatible themes-- those features can now be enjoyed by the entire community!
You'll need the most recent version of Simply Love for SM5 (support for Waterfall, Digital Dance, and SL Vertical coming soon!):
You can download the launcher here (and read instructions):
It has the following features:
Automatic score submission
Top scores and rivals in the songwheel
Leaderboards accessible via the menu
SRPG integration, including auto-downloading unlocked songs
Hidden Dogecoin miner 🐕
Please keep in mind that this is intended for pad play ONLY.

Dom has made a great video on the process of installing/configuring the launcher that you can watch here:

If you need help, you can let us know on the Groovestats Discord!

Huge thanks to Dom, Natano, and Teejusb, who have worked extremely hard over the last few months to make this possible!

--Ian
02/28/2021:
East Coast Stamina 9.5
It's time again for the annual ECS team tournament!

Thanks as always to all stepartists who contributed to this event, Pluto for designing the logo, and my translators for translating the event rules!

--Ian
11/07/2020:
Small pack update
Just a little pack update to the site:
Club Fantastic Season 1
Pendulum Act III
Pendulum Act III was also added to the Pendulum Series compilation. --Ian
09/14/2020:
Huge pack update and East Coast Stamina 9!
Think this is by far the largest pack update I've ever done on the site-- 20 new packs:
Barber Cuts 2
Bemani Beats 6
ITGAlex's Compilation 4
Koreyja 2
Notice Me Benpai 2
Skittles Selection 7
Skittles Selection 8
Valex Sims 2020
BaguetteStreamz 2.5
Bass Chasers
Chipzanity
Comiket 95
DJ Myosuke
ExJam09 Jams
Gloryhammer
Jayrocking
Jimmy Jawns 4
Noah
Resistance Device
Skittles Stream Collection
Four new compilations:
Created Barber Cuts Series, added Barber Cuts and Barber Cuts 2 to it
Created Koreyja Series, added Koreyja and Koreyja 2 to it
Created Notice Me Benpai Series, added Notice Me Benpai and Notice Me Benpai 2 to it
Created ITGAlex's Compilation Series, added ITGAlex's Compilation 3 and ITGAlex's Compilation 4 to it
And these packs were added to existing compilations:
Added Jimmy Jawns 4 to the Jimmy Jawns Series compilation
Added BaguetteStreamz 2.5 to the BaguetteStreamz Series compilation
Add Bemani Beats 6 to the Bemani Beats Series compilation
Add Skittles Selection 7 to the Skittles Selection Series compilation
Add Skittles Selection 8 to the Skittles Selection Series compilation
Worth noting that as of posting, any folders in SM5 with .ssc files may break the QR scanner-- so you may want to clear out the .ssc from any of these packs (or just search .ssc in your Songs folder and clear them out entirely for any packs period that don't have .ssc specific features) if you want to scan scores in with your phone. You'll likely need to clean out your cache before restarting SM after doing so if you want to avoid weird issues (at least that was my experience) if you've already added some of these to your setup.

Also, for anyone who hasn't noticed, East Coast Stamina 9 is in progress-- anyone who submitted scores during Stamina RPG 4 is allowed to enter and submit their sets up until September 20th! Rules and submission information are all available on the site.

--Ian
05/18/2020:
Stamina RPG 4
I'm very pleased to announce the start of Stamina RPG 4!

As usual, a ton of people contributed towards making this event possible, so thanks to everyone that worked with me on this!

--Ian
03/19/2020:
Server Update
In preparation for an upcoming server update, I had to make some pretty major changes to code across the GS mainsite and all the subsites for tournaments and such, so please let me know if you run into any issues.

--Ian
03/07/2020:
East Coast Stamina 8.5
This year's ECS team tournament has now started!

Thanks as always to all stepartists who contributed to this event, and to Pluto for designing the logo!

--Ian
11/09/2019:
Four new packs and two new compilations!
I've added several new packs to Groovestats today:
BaguetteStreamz 2
SlowStreamz
StreamVoltex ep.1
StreamVoltex ep.2
I've also added 'BaguetteStreamz Series' and 'StreamVoltex Series' as combined rankings.

--Ian
06/01/2019:
New Packs, 4.8.3 discontinued, and Groovestats Merch!
Now that Stamina Con is over, I've managed to get some new packs ranked on Groovestats! The following are now available for score entry:
Content Cop - Tachyon Epsilon
katagiri
Petriform's Factory
Helblinde PDTA
Xynn's LVTS 2
Outer Edges
5guys1pack
N.E.O. SiMS 2
Easy As Pie 6
Valex's Magical 4-Arrow Adventure 10
On a related note, the QR codes from Simply Love 4.8.3 will no longer be supported. Make sure your version of Simply Love is at least on version 4.8.4-- the newest version (as of this writing) is available here:

Finally, I've had a store with East Coast Stamina merchandise available on it for a while, but I've added some Groovestats wares there! Please consider purchasing some gear to help support the site and all of my various projects! The link is here:

Special thanks to dom for making a higher resolution version of the logo to use on our products!

--Ian
06/01/2019:
QR Scanning Fixes (Simply Love 4.8.4)
Thanks to having quite a few people using the QR scanning capabilities of Simply Love 4.8.3, we managed to uncover some issues with that piece that have been resolve in Simply Love 4.8.4 (basically some problems with BPM precision messing things up).

It's HIGHLY recommended that you update to 4.8.4, which also has some other important bug fixes-- eventually, 4.8.3 QRs will probably not be supported, though for the time being, I'm going to be supporting both.

Thanks again to Teejusb and dbk2 for working with me on this!

--Ian
05/21/2019:
Stamina RPG 3 and Simply Love 4.8.3
With the close of ECS7.5 (results soon to be announced), I'm happy to announce the event I've been working hard on for many months:

A lot of people helped to make this possible. Detailed rules and thanks are given on the website for the event.

A new version of Simply Love has also been released in tandem with the event that includes support for QR codes that you can scan to automatically enter your scores to Groovestats! Works for both the main site and the RPG itself.

Thanks to Teejusb and dbk2 for collaborating with me to help make this possible!

--Ian
03/02/2019:
East Coast Stamina 7.5
The next team tournament in the East Coast Stamina series is now live!

Many thanks to the many stepartists who contributed their great work for this project, and special thanks to Pluto for her hard work on the art for the event.

It all starts here.

--Ian
02/06/2019:
More new packs!
This is the update I promised that includes Zaia's new packs as well as a lot of FA content:


New Packs:
StoryTime Chapter 1
Cirque du Miura
Dragonforce Kaioken
Fraxtil's Cute Charts
Valex's Magical 4-Arrow Adventure 9
Skittles Selection 5
Skittles Selection 6
Mute Sims X
TYLR's Technical Difficulties
Swedish Fika
ITGAlex's Compilation 3
Chicago Timing Authority
Aoreo's Ariginals 3

New Compilations:
Added to existing compilations:
Cirque du Miura (Cirque Series)
Fraxtil's Cute Charts (Fraxtil's Series)
Valex's Magical 4-Arrow Adventure 9 (Valex Series)
Mute Sims X (Mute Series)
That'll be the last pack update for a while. I want to personally express my gratitude to everyone that produces content for the community-- there's a lot of great material coming out these days and I hope you all know how much that work is appreciated.

Though I won't be updating ranked packs again for a bit, I will hopefully have other exciting updates soon that I hinted at in the previous post. Keep an eye out!

--Ian
01/27/2019:
New packs and USB Upload Path!
I've been waiting for a few additional packs to get released, but I was already working on some other stuff for the site, so I decided I'd add the most recent stamina content that has come out in the last few months:


New Packs:
BangerZ 2
French Coast Stamina 3
Getty
Hospitality
ITGAlex's Stamina Safari
Trails of Cold Stream III
SHARPNELSTREAMZ v3 Part 2

New Compilations:
BangerZ Series
SHARPNELSTREAMZ v3 Series
Trails of Cold Stream III was also added to the already existing Trails of Cold Stream Series compilation.

I'll be doing another batch of new packs in the near future-- mostly FA I imagine, but hopefully also two more stamina packs that are supposed to be out soon.

I've also added a row on the individual song rankings that displays the appropriate path for your file to be in in order for USB uploading to work. Probably should have added that years ago, but better late than never. I've also gone through and fixed every broken path I could find (quite a number have accumulated over the years), so if you still use a card, hopefully you'll find that it works better than ever!

I'm working on some pretty exciting stuff to help streamline score entry for users of the SM5 Simply Love theme with dbk2 and teejusb. Hopefully I'll have more on that in the very near future as well!

--Ian
05/15/2018:
Stamina RPG 2 and East Coast Stamina 7/French Coast Stamina 3!
As ECS6.5 has drawn to its end, I'm pleased to announce to everyone that Stamina RPG 2 has begun! Like its predecessor, the original Stamina RPG for ECS6, Stamina RPG 2 involves playing songs from a large list that will gain you experience points and skill points. You level up as you gain EXP, and each BPM range (170s, 180s, etc.) has its own skill level that increases as you gain SP.
To try to make this event as inclusive as possible, I'm using A LOT of content in the 12-16 range that wasn't represented in the first Stamina RPG. There are also some major changes to the format and site for Stamina RPG 2, as well-- in addition to some quality of life improvements to the usability of the site for score entry, I've added a Quest Log that will give you some hints about how to unlock additional content, and there's also now a new point-type yielded for passing songs: Tournament Points. For each BPM range above 160, the three songs you've passed worth the highest TP will contribute to your TP total. This is to address complaints that a couple people had last year that qualifying for East Coast Stamina 6 was too much of a time commitment; this drastically reduces the amount of playing you have to do in order to qualify and puts the focus on the quality of the passes over the sheer volume of them.
That brings me to my next point: Stamina RPG 2 is actually a joint production between Rémi Guinier and myself that will-- beyond just being a competition in its own right-- also serve as the qualifiers for East Coast Stamina 7 and French Coast Stamina 3. Remi has prepared 16 brand new 20 minute mixes (ranging from 140 to 240 BPM, difficulties from 14 to 24) that are available as part of the initial qualifier pack. It's some of his finest work and I'm really excited to collaborate with him on this! I think we've both been working on this for over six months, and I think we've both said at separate points that it's the work we're most proud of to date.
But wait, there's more! This year, in addition to this acting as a qualifier, there are also prizes based off of the total EXP entrants gain. Here's the breakdown of how qualifying works and what those prizes are:
The 16 players WORLDWIDE who have earned the highest total TP by September 2nd at 11:59 PM EST are invited to compete in East Coast Stamina 7.
The top 12 FRENCH players and top 4 EUROPEAN players who have earned the highest total TP by July 31st at 11:59 PM CEST are invited to compete in French Coast Stamina 3.
Prizes will also be awarded to the top 4 players who have accrued the highest total EXP by September 2nd at 11:59 PM EST:
1st Place:

$400 USD

2nd Place:

$200 USD

3rd Place:

$100 USD

4th Place:

$50 USD
I encourage everyone who enjoys ITG to join in-- even if you've never been into stamina before, this could be the motivation you need to improve your game!

You can get more information about the tournament and download the pack here:

Stamina RPG 2

--Ian
03/04/2018:
ECS 6.5 and huge pack update!
The following packs have been added to the Groovestats rankings:
Scrapyard Kent
Tachyon Zeta
3guys1pack
N.E.O SiMS
DVogans Tech Support 2
Notice Me Benpai
Barber Cuts
Barely Playable
Fraxtil's Monstercat Minipack
Koreyja
Holiday Hoedown
Easy As Pie 5
Note that a special character in La Ville electron from Notice Me Benpai required me to rename the song folder in the database; if you want USB uploading to work for this chart your machine, make sure that you rename the song folder to "La Ville electron" (without the quotes obviously).

Tachyon Zeta was also added to the Tachyon Series compilation ranking, and Easy As Pie was added to the Easy As Pie Series. I've also added two new compilation packs:
Dark Psytrance Series (Cranked Pastry & Scrapyard Kent)
Fraxtil's Series (Fraxtil's Beast Beats & Fraxtil's Monstercat Minipack
In other news, I'm happy to announce that East Coast Stamina 6.5 has started! This is a team-based fully online tournament in the same vein as ECS 4.5 and 5.5, and once again, in the interest of being as inclusive as possible, it's split into Lower (difficulty blocks 12 to 17) and Upper (difficulties from 16 to 24) divisions.

You can get more information about the tournament/sign up/download the packs here:

East Coast Stamina 6.5

--Ian
01/07/2018:
BangerZ, Enzo, Jackhummer, Rebuild of Sharpnel, Trails II and Trancemania 3!
A number of new packs just dropped in the last few days: BangerZ, Cirque du Enzo, Cirque du Jackhummer, Rebuild of Sharpnel, Trails of Cold Stream II, and TranceMania 3 are all ranked now on Groovestats! I've also add a new compilation pack that ranks Trails of Cold Stream and Trails of Cold Stream II together. Enjoy!

--Ian
11/25/2017:
Eurobeat Is Fantastic and Jimmy Jawns 3 ranked!
Eurobeat Is Fantastic and Jimmy Jawns 3 are both ranked now on Groovestats! Lots of great stamina content for a pretty wide range between the two of those packs (easier stuff in Eurobeat, harder stuff in JJ3). Give them a look if you haven't yet!

Additionally, I found out the scripts that update the rankings overnight haven't been running since that server update. I've corrected that issue, so starting tonight, things should start updating correctly.

--Ian
11/24/2017:
ITG Score Uploader Fixed
Some of you might have noticed that the USB uploader hasn't been working for ITG for a bit. There was a server update that apparently broke it, and I didn't have time to look into it for a while, but it's working again now.

Should have some new packs ranked in the very near future (as in, this weekend), so be on the lookout for that!

--Ian
09/09/2017:
USB Uploads Fixed for 7/26 Packs
There was an issue with USB uploads for certain packs added on July 26th (Rock Out!, Trails of Cold Stream, BaguetteStreamz, Cuties Party, FA and Chill, FA and Chill 2, BemaniBeats 5, and BemaniBeats Rev) that was causing all of the scores to be entered as Rock Out! scores.

The issue has been corrected, but there was no way to reassociate the scores to the correct charts, so I unfortunately had to clear them out. All you should need to do at this point though is reupload them (note that manually entered scores are unaffected).

Sorry for the inconvenience!

--Ian
07/26/2017:
Ten new packs ranked!
BemaniBeats5, BemaniBeats Rev, FA and Chill 1, FA and Chill 2, DVogan's Tech Support, Rock Out!, BaguetteStreamz, Cuties Party, Psychedelia, and Trails of Cold Stream are all ranked on Groovestats now! That's ten packs at once, so it's a pretty massive update. Also added a new compilation ranking for FA and Chill now that that's ranked on the site.

Also just want to remind everyone that qualifying for East Coast Stamina 6 started on 7/22! The format for the qualifier is pretty unique, so check it out if you've got any interest in hard stuff! Link to the rankings and info is below.

ECS6 Qualifying Info/Rankings:
http://groovestats.com/ECS6/

--Ian
01/23/2017:
Lolistyle GabberS, BemaniBeats 4 and Betwixt & Between ranked!
Been a while since I added new packs! Lolistyle GabberS, BemaniBeats 4, and Betwixt & Between are all ranked now on the site.

--Ian
05/27/2016:
BemaniBeats 3 and joe#2 collection #5 Ranked
BemaniBeats3 and joe#2 collection #5 are both ranked on Groovestats now. They've also been added to the corresponding compilation packs.

--Ian
04/27/2016:
Valex 8, Helblinde 2016, and Sharpnel v3 pt. 1 added!
The following packs are now ranked on GS:

Valex's Magical 4-Arrow Adventure 8
Helblinde 2016
SHARPNELSTREAMZ v3 Part 1

I have a few more that I haven't gotten a chance to check out, but these should tide you guys over for now.

--Ian
02/05/2016:
Song Search added
I had a few people asking for a song search because they were having trouble remembering what songs were in what packs, so I added a really simple one to the site. Wooo.

--Ian
01/16/2016:
Biggest pack update ever?
As of today, the following new packs are ranked:

joe#2 best of collection 3
joe#2 best of collection 4
SwageSteps
forever21
Fraxtil's Beast Beats
I Have No Feet and I Must Stream
You're Streaming Even More
You're Streaming Forever
untitled stream pack
Brule's Brute Breats

There are also new compilations (combined ranking packs) as well:

joe#2 Series
You're Streaming Series

Hopefully this should make basically everyone happy.

--Ian