Zaia's Profile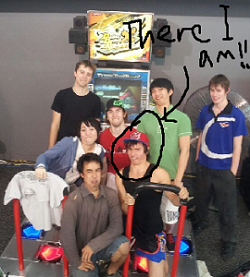 Member since:
November 14th, 2007
Last Profile Update:
May 14th, 2021
Hey everyone, I'm Chino/Serenade.
I live and play in Brisbane, Australia
I play at two locations, one public, one private. Nearly exclusively stamina and speed customs.
2006
May - started playing arrow game on computer
July - got Stepmania, first time ever played DDR (beginner)
September 17 - first started serious play on DDR Extreme
November 18 - first pass Max 300
2007
Jan - April - DDR machine broke. for four months.
May - first pass Paranoia survivor
July - first pass Legend of Max
October - first pass Paranoia Survivor Max
October 9 - first played In The Groove 2
2008
January - first pass Heaven, Quasar, Summer
March - passed Bloodrush, Pandemonium, Determinator
March- June = no playing
June - passed Infernoplex
August 4 - got our machine
August 17 - passed Uber Rave
August 29 - passed Dokudenpa
September 13 - passed Bonecrusher
September 21 - passed Emerald Sword
Early October - passed TTFAF
November- May 2009 = machine broke
2009
May 23 - first pass Beyond Abilities expert, One More Lovely, This Calling
June - first pass Loituma Speedcore, near pass Strangeprogram
August - getting better scores on 13s
December - near pass Never Say Die
2010
Jan- Apr = stopped playing
April - passed Gaussian Mist Part II
April- August = stopped playing
August - 95.86 EPM, 94.6 TTFAF
Sep-Dec = stopped playing
December - 98 3y3s, 97 Brainfog, just general 96+ on 14s+
2011
January 12 - One More Lovely 92.82. Probably first 16 pass in the country around this time
February - 94 Isolation
March - December = stopped playing
December - went to Sydney for the big meet, remotivated for ITG
2012
February 23 - got ITG installed in our arcade
March - Passed Vertex Beta
April - Getting better scores on Pendulum, Sharpnel, Rhapsody etc. Not playing Dragonforce
May - Started playing Tachyon 17s on 0.9 rate for practice
May 14 - First passes on 17s in the country, Testament of Will and Moonearth
Future - crush 20 footers, stream 250 bpm for like 68 thousand measures, get 110% on most songs, make more packs
well its 2015 now i ended up becoming good at hard songs
still working on those 68000 measures
2021 update: jej
Friend Of:
@@
,
AngelR4vE
,
Archi
,
Bran
,
DGY.Synthromancy
,
Dinosaur Emoji
,
Dirkzy
,
Foulu458
,
GenoMaxX
,
igr2
,
lil_beastling
,
lil_beastling (remake)
,
LP IS FOR CHEATERS
,
Mario0672
,
Perusal
,
RhythmIO
,
RIVAL
,
sblmnl87
(18 total)
Single
Tachyon Series Overall Percentages
Double
Expert
23.51%
0.00%
Expert
Hard
9.66%
0.00%
Hard
Medium
8.18%
0.00%
Medium
Easy
18.57%
0.00%
Easy
Total
16.22%
0.00%
Total
Single
Cirque Series Overall Percentages
Double
Expert
35.42%
0.00%
Expert
Hard
2.49%
0.00%
Hard
Medium
0.00%
0.00%
Medium
Easy
0.00%
0.00%
Easy
Total
14.53%
0.00%
Total
Single
Cranked Pastry Overall Percentages
Double
Expert
30.84%
0.00%
Expert
Hard
0.00%
0.00%
Hard
Medium
0.00%
0.00%
Medium
Easy
0.00%
0.00%
Easy
Total
25.01%
0.00%
Total
Single
Oh Henry! Mad Stamina Overall Percentages
Double
Expert
21.86%
0.00%
Expert
Hard
13.61%
0.00%
Hard
Medium
0.00%
0.00%
Medium
Easy
0.00%
0.00%
Easy
Total
20.58%
0.00%
Total